Patient Safety & Sterilization
Patient safety is of major priority for us.
Strict and high standards of sterilisation and hygiene are adhered. Dental Signature dental clinics in bangkok follow professional and meticulous dental guidelines in rigorously and regularly maintaining our dental equipments and instruments. Sterilization and cleanliness in our treatment rooms and our equipments are constantly subjected to control and monitoring.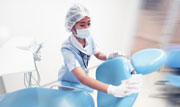 Pre-vacuumed Autoclave Unit
An autoclave is a device that uses steam to sterilize equipments and instruments. This means that all bacteria, viruses, fungi, and spores are inactivated. Smile Signature dental clinics in Bangkok uses Tuttnauer autoclaves that provides hospital grade sterilization and infection control designed for high sterility assurance

Autosealing Machine and Sterile Storage
Dental appliances at our thailand dental clinics are individually packed and sealed by our impulse autosealer machine then autoclaved by our pre-vacuumed autoclave units in viewpacks for each patient. Every pack of dental appliances are dated and their expiry dates checked prior to use to uphold high standards of dental sterilization.

Maintenance Unit
Correct cleaning and lubrication are essential to the function, safety and cleanliness of dental instruments. Our dental clinics in Bangkok uses the Assistina air-driven maintenance unit designed for straight and contra-angle dental handpieces, turbines, air motors and air-driven scalers.

Dental Suction Units
The suction system within the dental unit is a power motor designed for continous suction operation in eliminating secretions and solids at the same time. The dental suction system within the dental unit used at Smile Signature dental clinics in bangkok uses air flow and centrifugal force to separate liquids and solids without water for additional reliability and safety for patients

Chemical Test Indicators Pass Check
Our dental clinics in Bangkok uses chemical indicators during autoclaving to check our sterilization efforts. Smile Signature uses the 3M Comply SteriGage Chemical Indicator to monitor, exposure to steam or EO conditions in a pack. The SteriGage Chemical Indicator provides a visual accept/reject readout to validate that the sterilant has penetrated to the point of placement in the pack and confirm that sufficient exposure conditions have occurred.
Your safety is of our utmost concern.
Related Information