Porcelain veneers
All Porcelain Veneers for A Smile Makeover.

Porcelain veneers, are thin all porcelain wafer pieces placed over the front teeth to change color shape of the teeth.
Dental veneers are ideal for teeth that are oddly shaped teeth, chipped teeth, crooked teeth or inappropriate sized tooth. Porcelain veneers solve such irregularities and createa pleasing smile.
Dental Veneers Types

Material developments and layering techniques has made porcelain veneers look natural and esthetically pleasing. IPS Empress Esthetic Veneers is one of the most popular porcleain veneers used world for smile makoevers. With over 25 million, IPS Empress restorations have had an establishing historial grounding with proven aesthetic results.
Brands of Dental Veneers
IPS Empress II
IPS Empress Esthetic
IPS Empress eMax
Lumineers
Benefits of Dental Veneers
Typically porcelain veneers are difficult to stain and durable
Dental veneers correct the alignment of teeth "instant braces"
Dental veneers can brighten your smile and improve self-esteem
Porcelain veneers has translucence and texture similar natural enamel
Dental veneers close gaps between teeth
Dental veneers lengthen and reshape teeth
Dental veneers repair chipped, broken, or misshapen teeth
Dental veneers can cover tretracycline stains and other discolorations such as fluorosis
Dental Veneers Procedure
Post evaluation : Before procedure, your bangkok cosmetic dentist makes a first evaluation on your existing tooth/teeth to determine if suited for porcelain veneers
Preparing the old tooth : The old tooth is then given a minor preparation. A teeth impression is made and sent off to the dental laboratory to be made. A temporary dental veneer is placed on during the wait time for the permament porcelain veneer
Placing the new porcelain veneer : Upon delivery, the porcelain veneer is securely fitted by your bangkok cosmetic dentist
End result : A new covering for your existing tooth is done. Care for your new porcelain veneer is required in brushing and flossing should be done as recommended by your bangkok cosmetic dentist
See costs of IPS Empress Dental Veneers in Thailand dental clinics
Our Cosmetic Dentist Team
Dr. Chutima Kositpantavong DDS., MSc.,
DDS., Prince of Songkla University
MSc., Prosthodontics, Chulalongkorn University
Certificate in Prosthetic Dentistry, Chulalongkorn University
Dr. Wanlapa Tantipokin DDS., MSc.,
DDS., Mahidol University
MSc., Prosthodontics Dentistry, Mahidol University
Dr. Chaisurat Takolpuckdee DDS.
DDS., Chulalongkorn University
Certificate Residency in Prosthodontics, Chulalongkorn University
Thai Board of Prosthodontics
Dr. Vichulada Phunthikaphadr DDS, MSc.,
DDS., Chulalongkorn University
Certificate in Restorative Dentistry, University of Michigan.Ann Arbor, USA
MSc. Restorative Dentistry, University of Michigan.Ann Arbor, USA
MSc. Endodontics, Mahidol University, Thailand
Dr. Artorn Suthiwarapirak DDS., MSc.,
DDS. (2nd Class Honors), , Chulalongkorn University
MSc., Prosthodontics, Chulalongkorn University
Higher Graduate Diploma in Dental Implant Prosthodontics, Mahidol University
Beautifying Smiles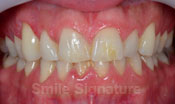 Before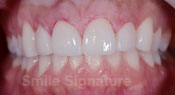 After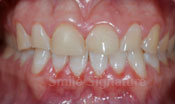 Before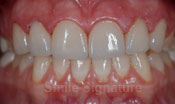 After
Restoring Smiles
Upper Veneers & Lower Crowns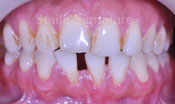 Before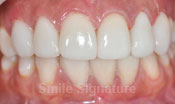 After
Dental Veneers by Australian at Smile Signature
"It has changed my life. I love my new smile" review by Ms Barry from Australia who has traveled to Thailand, Bangkok at Smile Signature for dental works and had dental veneers smile makeover