Porcelain Crowns
Restore Your Smile with Dental Crowns

Dental crowns are often called "dental caps" which cover and encase the whole tooth to become the tooth's new outer surface. Dental crowns as a means to rebuild broken and decayed teeth to their original shape. Dental crowns are a way to strengthen teeth and method by which the cosmetic appearance of teeth can be improved.
Dental Crowns Types
Dental crowns can be made of porcelain, precious alloys (gold), or a combination of both. Porcelain fused to metal alloy (PFM) crowns composes of porcelain material on the exterior whilst the interior is made of dental alloy. Our thailand dental clinic offers various ranges of PFM crowns with varying gold content within the dental alloy:

Porcelain fused to standard alloy dental crowns
Porcelain fused to semi-precious alloy >2% dental crowns
Porcelain fused to semi-precious alloy >50% dental crowns
Porcelain fused to high-precious alloy >85% dental crowns
An complete ceramic crown can offers better color, translucency and appearance. All porcelain crowns and all porcelain bridges without any metal contents include:

3M Lava (Zirconia) Ceramic Crowns
Cercon Smart Ceramics (Zirconia) ceramic crowns
IPS Empress & IPS e.Max ceramic crowns
Benefits of Dental Crowns
Dental crowns repair severely chipped, broken, or misshapen teeth
Dental crowns can cover irregularties in teeth
Dental crowns help strenghten a root canal treated tooth
Provide prosthetics on implants for function
Used to form dental bridges in replacing missing gaps and restoring bite
Dental Crowns Procedure
Post evaluation : Before procedure, your thailand cosmetic dentist makes a first evaluation on your existing tooth/teeth to determine if suited for porcelain crowns
Preparing the old tooth : The old tooth is then given a minor preparation. A teeth impression is made and sent off to the dental laboratory to be made. A temporary dental crown is placed on during the wait time for the permament porcelain crown
Placing the new porcelain crown: Upon delivery, the porcelain crown is securely fitted by your thailand cosmetic dentist
End result : A new covering for your existing tooth is done. Care for your new porcelain crown is required in brushing and flossing should be done as recommended by your thailand cosmetic dentist
Transforming Smiles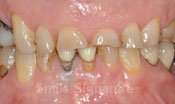 Before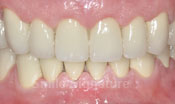 After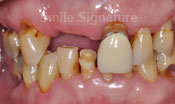 Before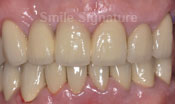 After
Restoring Smiles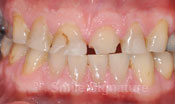 Before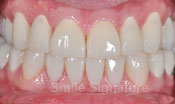 After
Hong Kong Expat Travels to Thailand for Dental Over Past 10 years
Mr Jason Black who live in Hong Kong has been to Smile Signature in Thailand for his dental treatments for the past 10 years.

"I've always found the treatment and service excellent... this is the place that I will always come all the time (for treatment)..."